Having a long-standing personal and professional connection with Antigua, meant that I was delighted when Chef Elizabeth Lee asked me to join the esteemed panel of judges at the Antigua Yacht Show Chef Competition. The initial briefing at The Copper & Lumber Store Hotel On Nelson's Dockyard, gave me the opportunity to supply each participant with a bottle of Libertine Brut Rosé – a premium English sparkling wine that is produced by us! A project we have spent the last three years working on; this was to be the focus point of each tablespace.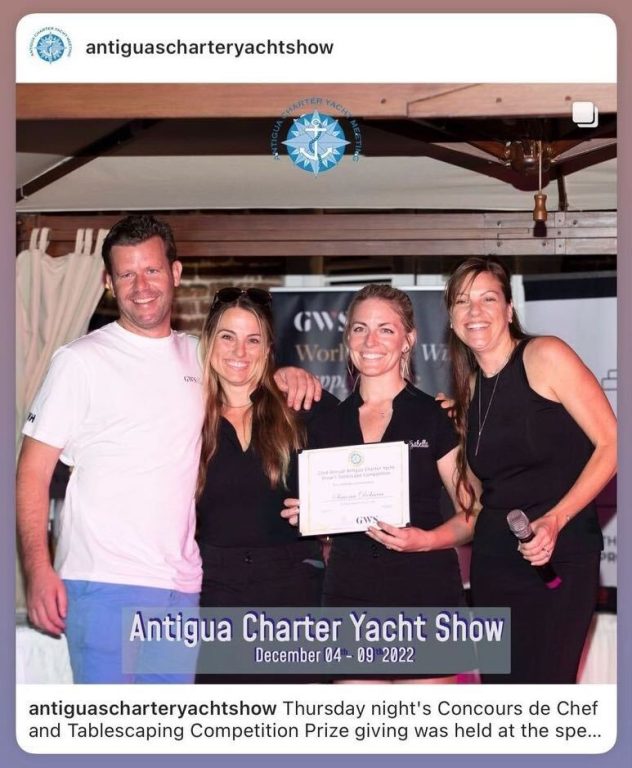 As we boarded each superyacht, I was met with incredible visual representations of Libertine Brut Rosé on each table we judged. M/Y Lady E draped their table in pink silks and dressed it with blush roses. The chefs inspiration was drawn from the 50g tin of Royal Ossetra Petrossian Caviar supplied by Tommy of Shoreside Support, it was showcased in at least one of each three courses.
As judges, we met after service to recap on each yachts offering and then on the last day we made our final decisions.
The winners of the chef competition were:
160ft+
1st Ryan Squires – M/Y Coral Ocean
2nd Richard Broom – M/Y Illusion
3rd Steve Scoullar – M/Y Adventure
126ft to 159ft
1st Russell Alley – M/Y Audaces
2nd April Oden – M/Y Cupcake
3rd Eric Davis – M/Y Mirabella
125ft and under
1st Suzanne Trice – S/Y Radience
2nd Paolo Costantini – S/Y The Sun
3rd Michelle Brink – Kings Ransom
The Tablescaping Competition winners were:
160ft+
Rachel Elliot – M/Y Lady E
126ft – 159ft
Simona Dobreva – M/Y Mirabella
125ft and under
Monique- Leigh de Silva – S/Y Oceanus
Photographer Rhoderick Grimes-Graeme caught all of the action on camera.